https://www.ctpost.com/news/coronavirus/article/Coronavirus-in-Connecticut-Live-updates-hour-by-15132401.php
Coronavirus in Connecticut: Live updates, hour-by-hour
Photo: Brian A. Pounds / Hearst Connecticut Media
As more and more Connecticut residents test positive for COVID-19, stay informed with all the latest information below.
Beyond local and statewide updates, this story will be updated with major regional, national and global information about coronavirus.
SIGN UP: Get our coronavirus newsletter delivered directly to your inbox
4/5/20
10:45 p.m.
As of Sunday evening at 5:00 p.m., the World Health Organization reports that there are 1,113,758 confirmed cases of coronavirus globally. The same report also says there have been 62,784 deaths associated with the virus.
9:18 p.m.
A tiger at the Bronx Zoo has been diagnosed with coronavirus, according to a news release from the Wildlife Conservation Society's Bronx Zoo.
8:57 p.m.
The death toll from coronavirus in New York City is nearing 2,500, according to the city's health department. There have been 64,955 cases and 2,472 deaths from the virus.
8:30 p.m.
Dr. Anthony Fauci, the director of the National Institute of Allergy and Infectious Diseases, said it is critically important for people to follow federal guidelines, such as social distancing, to mitigate the damage the virus does as the United States approaches the peak of cases and deaths.
7:40 p.m.
U.S. Navy Rear Admiral John P. Polowczyk, who is coordinating the movement of medical equipment for the Trump Administration, said three flights into the United States today delivered 1 million gowns, 2.8 million N95 masks, 2.8 million surgical masks and 11.8 million gloves, which will be distributed across the country as needed.
7:36 p.m.
Deborah Birx, the coronavirus response coordinator for the White House Coronavirus Task Force, said there were hopeful signs in Italy and Spain, two countries hit especially hard by the virus, where case numbers have been dropping.
7:15 p.m.
Trump said 1.67 million people have been tested for coronavirus and given results.
7:10 p.m.
The president said an additional 600,000 N95 masks would be delivered to New York City on Monday. He said the federal government would also send 200,000 of the masks to Suffolk County in New York. He said millions of masks would be delivered across the country in the coming days. He also said the administration had been working to send ventilators to states they need them.
7:05 p.m.
President Donald Trump called the fight against the coronavirus an "all-out military operation" in a press conference Sunday evening. He said his administration will have deployed over 3,000 military and public medical professionals to New York, New Jersey, Connecticut and other parts of the country by Tuesday.
6:30 p.m.
Connecticut colleges and universities say a federal stimulus package doling out $14 billion to higher education is appreciate but not enough. See the full story here.
6:05 p.m.
In a tweet, the Connecticut Department of Health said hospitals in the state are looking for volunteers with medical experience to help combat coronavirus.
5:46 p.m.
According to data from the state, coronavirus has spread to 156 of the 169 municipalities in Connecticut. The state also reports that 15 percent of people 70 and over who have tested positive for coronavirus have died. Of the 5,675 people who had tested positive, 20 percent are between the ages of 50 and 59.
5:10 p.m.
Boris Johnson, the prime minister of the United Kingdom, has been admitted the the hospital with coronavirus. He has previously tested positive for the virus.
5:03 p.m.
In a press release, Norwalk Communications Manger Josh Morgan said there are 39 new positive cases in Norwalk, bringing the total positive reported cases in Norwalk to 503. He said there was also one new death reported, meaning 20 Norwalk residents have died as a result of coronavirus. In Fairfield County, the number of new positive cases went from 2,824 to 3,050.
4:30 p.m.
As of 4:00 p.m. on Sunday, the Centers for Disease Control and Prevention reported that there were 304,826 confirmed cases of coronavirus in the United States. It said there had been 7,616 deaths associated with the disease.
4:07 p.m.
In a tweet, Governor Ned Lamont said there were an additional 399 confirmed cases of coronavirus in Connecticut, bringing the total to 5,675. He said 1,142 patients have been hospitalized and 189 Connecticut residents have died from the virus. Lamont added that more than 23,270 people have been tested.
2:42 p.m.
New Haven Mayor Justin Elicker gave an update on the city's coronavirus response. He said there were 241 confirmed cases of coronavirus in the Elm City and 9 deaths from the virus. He also said he had been receiving complaints from residents about grocery stores not enforcing social distancing. He said his administration is "prepared to close down stores if this continues to be an issue."
2:20 p.m.
2:02 p.m.
1:55 p.m. - First Selectwomen Brenda Kupchick with a update on COVID-19 for Fairfield. "We currently have a total of 70 confirmed cases, and 4 deaths as a result of COVID-19. According to health professionals, those numbers are much higher - because not all infected residents have symptoms. "Every social interaction endangers us all.
"All Fairfield beaches, playgrounds, and open spaces remain closed. Our police department will now transition from encouragement to enforcement. Please do not visit any of the closed spaces in Fairfield.
"When you go out for food or medicine, please practice physical distancing. The CDC now advises everyone use a cloth face covering. See the Town COVID-19 websites for further guidance and direction on how to make a face covering."
1:26 p.m.
1:12 p.m. - Adjusting to the changes and travails of an online education present some unique challenges, but for several first-year college students, being back home in Westport is not all bad. "It's the place where I feel most comfortable and safe," said Zach Rogers, who began his studies at Tufts University in September.
Given the uncertainties of the time owing to the coronavirus and related stressors, he expressed gratitude to be among family and friends rather than on his own in Boston. Read more here.
12:55 p.m. - The Stratford Health Department and State Department of Public Health have confirmed 56 COVID-19 cases and Stratford's first confirmed COVID-19 related death.
12:35 p.m. - Americans braced for what the nation's top doctor warned Sunday would be "the hardest and saddest week" of their lives while Britain assumed the unwelcome mantle of deadliest coronavirus hotspot in Europe after a record 24-hour jump in deaths that surpassed even hard-hit Italy.
"This is going to be our Pearl Harbor moment, our 9/11 moment,'' U.S. Surgeon General Jerome Adams told "Fox News Sunday. Read more here.
12:22 p.m.
12:10 p.m.
New York Gov. Andrew Cuomo said Sunday that "the number of deaths over the past few days has been dropping for the first time."
He added, "What is the significance of that? It's too early to tell."
"The interesting blip, maybe, in the data, or hopeful beginning of a shift in the data and the number of cases. Total number of new hospitalizations now, is 574, which obviously is much lower than previous numbers."
ICU admissions are also down, he said, and the discharge of patients is up.
The worst news, he said, is the number of deaths in New York state that total 4,159.
Cuomo said it was too soon to determine whether the pandemic had reached its apex.
"We could either be very near the apex, or the apex could be a plateau and we could be on the plateau right now," Cuomo said.
Cuomo said the next few days could give more evidence of what is happening with the virus in the state.
Cuomo sounded cautiously optimistic even as he urged New Yorkers to remain vigilant and continue adhering to the strict social distancing policies in place.
"The coronavirus is truly vicious," he said. "It's an effective killer. People who are very vulnerable must stay isolated and protected."
11:48 a.m.
11:35 a.m. - Today, New Haven Mayor Justin Elicker and New Haven Health Director Maritza Bond will be hosting virtual press availability regarding all updates surrounding the City's response to the COVID-19 public health emergency. Today's virtual press briefing will be at 2:30 PM. The COVID-19 pandemic is evolving every day, and the City of New Haven wants to provide accurate and current information regarding the spread of the virus. All briefings are uploaded to the Mayor's YouTube Page at bit.ly/MayorYouTube.
11:22 a.m.
11:07 a.m - The Danbury City Council is expected to consider a program that would allow residents struggling during the coronavirus outbreak to defer their taxes. The program is among the items on City Council's agenda for its 7:30 p.m. Tuesday meeting, which will be held virtually, Mayor Mark Boughton said. This would give taxpayers a 90-day extension to July 1 to make these payments, he said. Taxes normally must be paid from April 1 to May 4, he said. To read more, click here.
10:55 a.m. - The CT Judicial Branch is implementing a new procedure for the remote filing of temporary restraining orders, with a two-fold goal: 
To reduce the number of people coming into the courthouses, for which filing a temporary restraining order is one of the few remaining permitted purposes; 
To make it easier for victims of domestic violence to file, especially in this day of temporary courthouse closings and restricted mobility. To read more, click here.
10:45 a.m. - Out of an abundance of caution, CT Lottery's headquarters in Rocky Hill is closed for deep cleaning, after an employee tested positive for the coronavirus. The positive test results came after the employee had been self-isolating at home and absent from the facility for more than two weeks.
During the current health crisis, the CT Lottery has implemented the following claims procedures:
Prizes up to $599 may be claimed in-person at CT Lottery retailers, or by mail. For mail-in instructions, visit www.CTLottery.org/ClaimPrize.
Prizes up to $5,000 may be claimed in-person at High-Tier Claim centers, or by mail.
Prizes $5,000 - $49,999 MUST be claimed by mail.
Prizes $50,000 and above must be made in-person at the CT Lottery's Rocky Hill headquarters, and by appointment ONLY. To make an appointment, claimants should call (860) 713-2679. Please note, Lottery Retailers and High-Tier Claim Centers are privately owned businesses and may independently determine openings and closings. All details of the CT Lottery's temporary changes during the outbreak are available on the CT Lottery's website at www.CTLottery.org/PublicNotice. Any other questions or concerns about claims may be directed to ctlottery@ctlottery.org, or (860) 713-2700.
10:22 a.m. - Since the start of the coronavirus outbreak, Greenwich First Selectman Fred Camillo said he has been inundated with calls, texts and emails from people who want to help. But the big question was how. Greenwich Comes Together was born out of that desire to help. The organization aims to turn that desire to help into action by getting vital equipment and support to medical professionals and first responders during this public health crisis. Read more here.
9:56 a.m.
9:35 a.m. - From Fairfield police: As a reminder, all of Fairfield's parks, beaches, Fields, open spaces and other recreational areas remain CLOSED until further notice.
"Despite these closures, officials continue to receive reports of individuals using these recreational areas. As a result, and for the health and safety of our residents and first responders, enforcement pertaining to these closures will begin tomorrow, Monday.
The Fairfield Police Department will continually patrol all closed areas and take appropriate enforcement action. Enforcement may include, but is not limited to, the issuance of $92 trespassing infractions.
"People's lives depend on every one of us and our commitment to following local, state and federal guidelines that tell us to remain home and restrict contact with only members of our households. We have the technology to stay socially connected while remaining physically distant. If you do need to venture away from your home, please be sure to follow all CDC guidelines. We will get through this together if we stay apart.
For more information and resources related to COVID-19 please go to http://www.fairfieldct.org
9:17 a.m - Ken Dixon is worried about Gov. Ned Lamont.
You'd figure he'd follow his own admonitions on social distancing.
As Dannel Malloy's perseverance and leadership within the tragedy of the Newtown school massacre was the hallmark of his time in the governor's office, this moment is Ned Lamont's. But at 66, he's in the coronavirus sweet spot. To read more, click here.
8:58 a.m. - The state Department of Energy and Environmental Protection has announced new measures at state parks including a ban on picnicking. "We will provide access to parks for solitary recreation for as long as possible, but we are closely monitoring their use and if social distancing is not being practiced, we will need to consider capacity reductions and closures," DEEP said in a release. To read more, click here.
8:20 a.m. - Members of the Connecticut National Guard were at Stamford Hospital Saturday to begin repurposing a building on the site to help meet extra demand brought on by the coronavirus pandemic.
"In preparation for a scenario where the demand for care is beyond that which our facility can currently accommodate, Stamford Health is working with the State of Connecticut and the National Guard to recommission the Wheeler Building on the Bennett Medical Center campus as an alternative care site," Andie Jodko, spokeswoman for Stamford Health said.
8:11 a.m.
Proud to join the @anagraceproject tonight for a special reading of Goodnight Moon—a special reminder that with all that's going on in our world, love always wins. https://t.co/IWT3L6L7S1

— Governor Ned Lamont (@GovNedLamont) April 5, 2020
7:50 a.m. - On Saturday, Southbury firefighters were dispatched to three different illegal burn calls. While spring has sprung and many of us are stuck at home with nothing better to do than our spring yardwork, it is very important that you follow proper procedures for burning and contact the fire marshal through town hall in order to acquire a burn permit. Please help us serve you in the most efficient manner possible.
7:22 a.m. - After the CDC recommendation to wear cloth face coverings in public, Wilton Social Services Director Sarah Heath is asking residents to assist Wilton's seniors by dropping off homemade cloth masks in the bin in the donation shed in front of Police Headquarters. Sarah, along with Wilton Helping Hands, will distribute.
6:57 a.m. - The state confirmed 33 additional COVID-19-related deaths Saturday, the largest single-day increase since the crisis began, according to state testing data. The number of Connecticut who have died after testing positive rose to 165, the state said.
One by one, more and more municipalities — even small, rural ones — are feeling the tragic effects as the disease spreads. To read more, click here.
4/4/20
5:28 p.m. - Danbury Mayor Mark Boughton says there are additional COVID-19 cases in the city that have not been reported in the state's data released earlier this afternoon. In the data from the state, it indicates Danbury has 418 confirmed cases. Boughton says the number is likely about 40 or so higher.
4:47 p.m. - New Haven Mayor Justin Elicker says the city has signed an official agreement with University of New Haven to house first responders, roughly about 150 to 160 individuals.
4:45 p.m. - New Haven Mayor Justin Elicker says that the city's peak in terms of hospitalized patients is expected sometime later this month or in early May, on target with what the city was expecting, he said.
4:30 p.m. - There has been an additional 362 positive cases of COVID-19 in Connecticut, bringing the total to 5,276 confirmed cases. There are 1,033 patients hospitalized and 165 fatalities. More than 22,000 residents have been tested.
4:15 p.m. - Connecticut Gov. Ned Lamont said FEMA approved the state's request to add survivors of domestic violence to the groups of people for which Connecticut has been approved to use non-congregate housing for during the pandemic.
The state was previously approved to use non-congregate housing for the homeless, as well as for first responders and healthcare workers in need of a temporary place to live to avoid interacting with or spread infection to family members.
4:13 p.m. - With holiday including Passover and Easter on the horizon, Bridgeport Mayor Joe Ganim is urging residents to adjust to the new normal and celebrate with family over Zoom, FaceTime or other means.
3:50 p.m. - There is no fishing allowed in Bridgeport for the time being.
3:45 p.m. - North Branford has announced its first COVID-19-related death: a woman between the ages of 30 and 40.
2:30 p.m. - The Connecticut National Guard is repurposing a portion of Stamford Hospital to help with the coronavirus outbreak.
"In preparation for a scenario where the demand for care is beyond that which our facility can currently accommodate, Stamford Health is working with the State of Connecticut and the National Guard to recommission the Wheeler Building on the Bennett Medical Center campus as an alternative care site," Andie Jodko, spokeswoman for Stamford Health, said in a release.
The organization has not yet decided how exactly they will use the repurposed building, according to Jodko.
2 p.m. - New York has reported an additional 630 deaths from coronavirus, bringing the statewide total to 3,565, according to the Washington Post.
1:30 p.m. - Wisconsin Gov. Tony Evers called for an all-mail election Friday, as state residents prepare to vote for a Demoncratic Party presidential nominee and in a state Supreme Court race, according to the Associated Press.
The primary is expected to take place Tuesday.
"Republicans swiftly made clear their feeling that the election should continue as planned, and accused Evers of waffling under pressure from liberal groups," according to the AP.
1 p.m. - General Dynamics Electric Boat President Kevin Graney has tested positive for the coronavirus, according to Congressman Joe Courtney, who offered well-wishes and advice in a statement Saturday.
"Kevin is a talented engineer and shipbuilder, a good leader at the shipyard, and most importantly a really good person - we're all rooting for him to get healthy as soon as possible, and it's good to know that right now his symptoms are mild," said Courtney.
"The top priority has to remain maintaining the health and safety of the thousands of hard-working men and women down at the shipyard who are working to meet real, tangible national security priorities in real time. Having been in constant contact with EB over these last challenging few weeks, I know that they are continually looking at additional ways to reduce risk for the people who work there. For example, reducing social contact as much as possible, expanding teleworking to more of the design workforce, and modifying shift schedules to reduce density. Based on my calls this morning, additional adjustments are being developed and accelerated. Lastly, my staff has been working with Navy acquisition leaders to adopt new, flexible rules on schedule and cost in its contracting process so that shipyards will not be penalized for adhering to CDC guidance."
12:30 p.m. - The Connecticut Judicial Branch has further cut operating hours because of the coronavirus.
Beginning April 14, all courthouses will be closed on Tuesdays and Thursdays until further notice, Chief Court Administrator Patrick Carroll said. All courthouses will be closed this Tuesday as well.
Courthouses in Stamford, Danbury, Torrington, Milford and Middletown had already been shut down.
12 p.m. - New York Mayor Andrew Cuomo said he will sign an executive order "to allow medical students who were slated to graduate this spring to begin practicing now."
"These are extraordinary times and New York needs the help," Cuomo said on Twitter.
11:45 a.m. - Madison First Selectman Peggy Lyons has announced the town's second coronavirus death.
Lyons struck a stern tone in the release she issued Saturday morning, indicating that social distancing was not optional. She referred to Gov. Ned Lamont Executive Order 7N, which prohibits gatherings of more than five people.
The police department would step up its efforts enforce the order, especially at beaches, according to Lyons.
11:10 a.m. - Trumbull First Selectman Vicki Tesoro has warned the town that police and park rangers will close the Pequonnock River hiking trail if there continues to be non-compliance with social distancing rules. Reports are that people are gathering in groups on the trail and illegally parking near entrances.
11 a.m. - Starting to think about lunch? We've compiled a database of takeout and delivery options for Connecticut residents.
10:30 a.m. - The Beardsley Zoo is offering young people the chance to be featured on their website as part of a new entertainment and educational opportunity.
Starting Friday, the zoo is inviting children to draw pictures and write letters for their favorite animals. They can also create a "zoo" at home out of stuffed animals and other toys and send in a photo. According to a release, the art will be featured on the zoo's website and social media.
The new program called "Do You Have a Zoo at Your House?" is part of the zoo's virtual education initiative that started when the zoo closed to the public due to coronavirus. The Zoo also offers Facebook Live sessions on Tuesdays, Wednesdays and Thursdays during which people can chat with zoo staff members to learn about the animals.
10 a.m. - 84 Shelton residents have tested positive for the coronavirus, according to health officials. Nearly 20 cases were reported in the last day.
9:30 a.m. - Spanish Prime Minister Pedro Sánchez plans to seek a two-week extension of the national lockdown, according to the Washington Post.
Parliament would be asked to extend the measures until April 26, according to the Post.
9 a.m. - Inmates from the federal prison in Danbury, where cases of COVID-19 have emerged in recent days, will be among those released after an order Friday night from U.S. Attorney General William Barr to ease inmate populations in the face of the pandemic.
The Reuters news service reported a letter from Barr to the federal Bureau of Prisons ordering home confinement for some inmates at facilities in Oakdale in Louisiana, Elkton in Ohio and Danbury.
Earlier in the week, nine inmates were reported to have been infected with COVID-19 at the low and minimum-security Danbury Federal Correction Institution, which houses 1,075 male and female inmates in three units.
8:30 a.m. - Seven firefighters and two police officers have tested positive for the coronavirus in New Haven, according to Mayor Justin Elicker.
8 a.m. - An Amazon employee working at the company's fulfillment center in North Haven has tested positive for the coronavirus.
Timothy Carter, an Amazon spokesman, said Friday that "we are supporting the individual who is recovering." Carter provided no other details about the person who contracted the virus or when it was determined the individual tested positive.
"We are following guidelines from health officials and medical experts, and are taking extreme measures to ensure the safety of employees at our site," Carter said.
7:30 a.m. - As of Saturday morning, there were approximately 1,123,024 cases of the coronavirus worldwide, including 278,458 in the United States, according to data compiled by Johns Hopkins University.
4/3/20
9:38 p.m. - Starting Saturday, Walmart will allow "no more than five customers for each 1,000 square feet at a given time, roughly 20 percent of a store's capacity."
To manage the new restriction, associates will mark a queue at the main entrance and direct arriving customers there, where customers will be admitted one-by-one and counted. As a customer leaves the store, a new one can be approved to enter.
There will be one-way aisle movement in Walmart stores starting next week.
Click here to read Walmart's full announcement.
8:05 p.m. - The CDC recommends that people now wear cloth face coverings, especially in areas of significant community-based transmission since a large amount of people with COVID-19 are asymptomatic and can transmit the virus to others before showing symptoms.
The cloth face coverings recommended are NOT surgical masks or N95 respirators; those are CRITICAL supplies for healthcare workers and first responders.
6:40 p.m. - Stratford has posted new signs to serve as a reminder to residents to keep distance, as the town has 52 confirmed COVID-19 cases.
"Practice Social Distancing," the sign says. "#ThinkBeyondYourself."
5:10 p.m. - U.S. Senator Chris Murphy (D-Conn.), U.S. Senator Susan Collins (R-Maine) and U.S. Senator Dianne Feinstein (D-Calif.) announced Friday bipartisan legislation to help Peace Corps volunteers who were suddenly evacuated from abroad due to the COVID-19 pandemic.
The legislation will ensure Peace Corp volunteers qualify for unemployment insurance. These volunteers will also be allowed to continue to serve at home in the United States through the AmeriCorps or similar programs.
4:55 p.m. - A Yale University study published Friday found that most of Connecticut's COVID-19 cases were linked to outbreaks in other states — not internationally — and that most of the state's cases can be linked back to infections from Washington state.
4:20 p.m. - There are 4,914 Connecticut residents who have tested positive for COVID-19, and 131 people have died in the state from the virus.
3:27 p.m. - Effective immediately, Connecticut's 213 nursing homes are getting a 10 percent across-the-board increase in Medicaid payments to meet costs from the public health emergency. The payment increase will be applied to employee wages, including staff retention bonuses, overtime and shift-incentive payments.
The funding increase runs from April 1 through June 30, with an initial payment of $1..6 million scheduled to be received by nursing homes on April 7. The three-month increase is expected to total about $35.3 million.
Long-term care facilities that propose to be designated by the DPH to specialize in care for residents with COVID-19 will be eligible for $600 per-day payments for each person served.
The state is also offering to help with start-up costs and $600 per-day payments to facilities that are designated by DPH as suitable to be reopened for the purpose of serving residents with the virus and who need nursing home-leve care.
3:25 p.m. - Bridgeport officials are offering free face masks to parents and children at emergency food service sites throughout the city.
3:10 p.m. - Habitat for Humanity of Coastal Fairfield County donated over 11,000 pairs of safety goggles and available inventory of N95 respirator masks and Tyvek coverall suits to Yale New Haven Health.
2:31 p.m. - Connecticut, Massachusetts and Rhode Island state police escorted the New England Patriots' tractor-trailer, filled with a shipment of N95 masks, to New York City.
2:27 p.m. - The Bridgeport Fire Department received an anonymous donation of gloves Friday morning.
2:20 p.m. - The College Board announced that AP class exams for high school students will be provided in an at-home version after it surveyed 18,000 AP students and 91 percent indicated they wanted to take the exam.
Exams will be given from May 11 to May 22, with makeup tests available from June 1 to June 5. Students can take exams at home or in schools, if they reopen.
Each subject's exam will be taken on the same day at the same time across the globe.
Click here to view the full testing schedule.
2:15 p.m. - Connecticut Gov. Ned Lamont is urging state residents to consider taking on a volunteer role in their communities to help with the COVID-19 pandemic response. The state already is seeking volunteers with health care experience, but has now launched a campaign seeking volunteers needed in places such as food banks, deliveries to the elderly, shelters and more.
2 p.m. - Talks with two hotels over housing the homeless in New Haven are stalled.
Steve DiLella, of the state Department of Housing, said a number of contracts were signed Thursday with hotels to house the homeless in other cities. But no contracts have been signed this week in New Haven, as the details are worked out with local hotels that have already taken in 84 individuals under earlier agreements.
While New Haven has 133 confirmed cases of COVID-19, Director of Public Health Maritza Bond said she has not been informed of any homeless individuals who tested positive for COVID-19.
1:30 p.m. - The deaths of an additional 766 people and 4,585 cases in Italy were reported Friday, according to the Washington Post.
"The number of new infections announced Friday remains in the same range of daily increases as the last several days, lending hope that a national lockdown will prove to have a long-term slowdown effect on the infection rate. Although thousands of new cases are being confirmed each day, the recent daily increases are lower than earlier in the country's outbreak," according to the Post.
1 p.m. - The deaths of three Shelton residents were reported Thursday, bringing the city's total to seven.
The deaths were three people - two women and one man - in their 90s; three men in their 80s, and one man in his 70s, stated Naugatuck Valley Health District (NVHD) officials, and five died in nursing homes.
"Our thoughts and prayers are with the friends and families who have lost their loved ones during these difficult times," said NVHD Director Jessica Stelmaszek.
12:30 p.m. - New York City Mayor Bill DeBlasio has called for doctors and nurses to enlist across the country, so the military can organize medical efforts, according to the Washington Post.
DeBlasio "lamented that there has been no effort to mobilize doctors and nurses across the country and bring them to 'the front' — first New York City, then other areas that have been hardest hit by the novel coronavirus outbreak," according to the Post.
12 p.m. - U.S. Sen. Chris Murphy sent a letter to Vice President Mike Pence Friday, calling for transperancy in the Federal Emergency Management Agency's distribution of medical supplies, including ventilators.
"The lack of a national and centralized coordination system for the disbursement of medical supplies is creating severely counterproductive competition between states, health care facilities, and federal agencies to secure limited supplies, driving up prices and exacerbating critical shortages. Further, to the extent the federal government has been engaged in allocating critical medical resources, there has been a deeply problematic degree of confusion and lack of transparency in the way the allocation decisions are made and which states' requests are met," Murphy wrote.
11:30 a.m. - The U.S. Department of Labor has authorized an additional 13 weeks of unemployment compensation for those who have exhausted their existing 26-week allotment of benefits during an unsuccessful search for work, or are otherwise on the cusp of doing so.
The unemployment rate rose to 4.4 percent as of March 12, according to the Bureau of Labor Statistics. That followed an 0.9 percentage point spike — the largest for any month since 1975 — amid mass business closures nationally sparked by rapid spread of the COVID-19 strain of coronavirus.
11 a.m. - The American Civil Liberties Union of Connecticut has announced that it is suing the state in an attempt to force emergency action against the spread of the coronavirus pandemic into prisons and jails.
"People who are incarcerated in Connecticut are in imminent danger from COVID-19," said Dan Barrett, the ACLU's state director, who filed the litigation in state Superior Court.
The suit will try to force the immediate release of people based on illness and risk factors; held on lesser charges or low bond; or within six months of release. Currently, the DOC reports that 16 guards and eight inmates have been tested positive for COVID-19.
10:30 a.m. - New Haven closed its 911 call center for a period Thursday after a worker tested positive for the coronavirus, according to Mayor Justin Elicker. Calls were diverted to Hamden under a mutual aid agreement.
The mayor said the Public Service Answering Point center was given a thorough cleaning during the shutdown before reopening to staff. He said the sick individual had been out of work for some time.
10 a.m. - HBO will allow everyone to stream the entirety of nine television shows for free beginning Friday.
The shows are "Ballers," "Barry," "Silicon Valley," "Six Feet Under," "The Sopranos," "Succession," "True Blood," "Veep," and "The Wire."
9:30 a.m. - New Haven Mayor Justin Elicker will hold his daily press briefing about the coronvirus at 4 p.m., according to Gage Frank, city spokesman.
All of Elicker's press briefings can be viewed through his official YouTube channel. Last night's Board of Alders meeting has been posted there for public consideration as well.
9 a.m. - Demand has increased at the Shoreline's two area food pantries, Shoreline Soup Kitchens & Pantries and the Community Dining Room, during the outbreak.
SSKP, which affords food and fellowship to people in need in 11 towns, from Madison to East Lyme to Chester, provided 19,000 pounds of food to guests last week, according to Executive Director Amy Hollis.
"It's a significant increase," she said. "We are anticipating continued high numbers at our pantries."
Over at the Community Dining Room in Branford, Executive Director Judith Barron sounded a similar refrain.
"We're serving double the amount of food we're used to, and we've now had a 10 percent increase in the homebound population for food, but our drivers and our volunteers are maintaining," she said.
8:30 a.m. - The Trump administration is expected to begin advising Americans to wear a cloth mask or other face covering while in public in the near future, according to the Washington Post.
8 a.m. - As of Friday morning, there were 1,030,628 worldwide cases of the coronavirus, according to data compiled by Johns Hopkins University.
4/2/20
8 p.m. - Connecticut Gov. Ned Lamont has added on to his executive order in response to COVID-19. Here are the recent additions:
-Prohibition on non-essential lodging at hotels, motels, inns, bed and breakfasts and short-term residential rentals.
-Permission for food establishments and liquor manufacturers to deliver liquor and allows additional manufacturers to sell liquor for pick-up and delivery.
-Suspension of notarization requirement related to Connecticut Recovery Bridge Loan Program.
-Provides the commission of early childhood education with the authority to implement a financial package to compensate emergency child care and stabilize the child care field to support providers through the emergency response.
-Suspension of rehearing rights for temporary rate increase for certain health care providers.
-Alternative to affidavits in relation to orders of protection and relief.
Click here to read the full order.
7:17 p.m. - Seven additional Connecticut residents joined the Connecticut National Guard volunteer program, adding to the already 40 volunteers who enlisted over the last month. For additional information contact your local recruiter at 1-860-982-2842 or visit NATIONALGUARD.COM/CT.
5:49 p.m. - The Connecticut Department of Mental Health and Addiction Services will temporarily close its detox unit at the Connecticut Valley Hospital within its Addiction Services Division in Middletown to new admissions. The unit is expected to be closed by Friday.
There are currently eight patients on the detox unit in Middletown. The average length of stay for patients is four to seven days. All current patients will be discharged by Friday.
Staff from the unit will be temporarily reassigned to a 13-bed isolation unit for CVH patients with COVID-19 to help with staff needs.
5:02 p.m. - In Bridgeport, the fire administration offices and the Fire Marshal Division are closed effective immediately. Anyone who requires documents or information is asked to email the department at bridgeport.fire@bridgeportct.gov. The fire department will also now have members wearing additional protective equipment.
4:26 p.m. - There have been 18,300 people tested for COVID-19 in Connecticut.
4:22 p.m. - The Connecticut Department of Correction has created a tracker for inmate and employee COVID-19 testing information. Click here to view that information.
There have been 16 confirmed cases of COVID-19 in staff members at state prisons. Fifty-three inmates have been tested, with eight of those inmates testing positive.
-Bridgeport Correctional Center has no confirmed cases in staff members or inmates. Four inmates were tested.
-Brooklyn Correctional Institution has no confirmed cases in staff members or inmates. No inmates have been tested.
-Cheshire Correctional Institution has two confirmed cases in staff members. No inmates have been tested.
-Corrigan-Radgowski Correctional Center in Uncasville has one confirmed case in a staff member and three confirmed cases in inmates — 20 of which were tested.
-Garner Correctional Institution in Newtown has one confirmed case in a staff member. No inmates have been tested.
-Hartford Correctional Institution has three confirmed staff members with the virus. Three inmates have been tested; no inmates have tested positive.
-MacDougall-Walker Correctional Institution in Suffield has two confirmed cases in staff members. No inmates have been tested.
-Manson Youth Institution in Cheshire has no confirmed cases in staff or inmates.
-New Haven Correctional Center has two confirmed cases in staff members. Three inmates were tested; no inmates have tested positive.
-Northern Correctional Institution in Somers has no confirmed cases in staff or inmates.
-Osborn Correctional Institute in Somers has one confirmed case in a staff member. Four inmates were tested; no inmates have tested positive.
-Carl Robinson Correctional Institution in Enfield has two confirmed cases in staff members. Two inmates were tested; no inmates have tested positive.
-Willard-Cybulski Correctional Institution in Enfield has no confirmed cases in staff members. Eleven inmates have been tested, five of which tested positive.
-York Correctional Institution in East Lyme has two confirmed cases in staff members. Three inmates were tested; no inmates have tested positive.
3:56 p.m. - Connecticut Gov. Ned Lamont said the state should receive $1.45 billion from the federal relief package. He said the state will likely lose $500 million of that in tax revenue for the fiscal year.
3:49 p.m. - Westport First Selectman Jim Marpe said the town has seen its first fatality from COVID-19 on Thursday, an 80-year-old Westport man.
3:47 p.m. - Connecticut Gov. Ned Lamont said hotels and short-term rentals will now only be used by essential personnel to discourage travel, based on a new executive order that goes into effect Friday.
3:45 p.m. - Connecticut Gov. Ned Lamont said an additional 267 residents tested positive for COVID-19, bringing the total to 3,854. Of that number, 827 patients have been hospitalized. There have now been 112 fatalities linked to this virus in the state.
3:30 p.m. - The U.S. Department of Housing and Urban Development immediately started to allocate more than $3 billion to help American's low-income families and most vulnerable citizen after President Donald Trump signed the CARES Act into law last Friday.
What does that mean for Connecticut?
"This funding provides vital relief to our Connecticut communities that are on the front lines in this fight," said HUD New England Regional Administrator David Tille. "HUD remains committed to helping our partners and those we serve get through this crisis; we appreciate the extraordinary efforts taking place across New England to help those most in need."
HUD is making $36.6 million available in Connecticut through its Community Development Block Grant, Emergency Solutions Grant and Housing Opportunities With AIDS programs.
$24.1 million will be used from the Community Development Block Grant for the following:
-To acquire a motel or hotel building to expand capacity of hospitals as needed.
-To replace HVAC systems to temporarily transform commercial buildings or closed school buildings into clinics or treatment center.
-To support businesses manufacturing medical supplies.
-To construct a group living facility to centralize patients undergoing treatment.
-To carry out job training of health care workers and technicians available to treat disease within a community.
$11.9 million will be used from HUD's Emergency Solutions Grant:
-To build more emergency shelters for homeless individuals and families.
-To operate emergency shelters by providing maintenance, rent, repair, security, equipment, fuel, insurance, utilities, food, furnishings and supplies needed.
-To provide hotel/motel vouchers for homeless families or individuals.
-To provide childcare, education services, outreach, employment assistance, outpatient health services, legal services, mental health services, substance abuse treatment services and transportation to people experiencing homelessness.
-To prevent individuals from being homeless and to rapidly rehouse homeless individual.
$510,602 will be used from the Housing Opportunities for Persons With AIDS program:
-To increase the level of safe, stable housing for persons living with HIV/AIDS and their household members through rental and utility assistance and other short-term lodging assistance to address self-quarantine needs.
-To ensure access to HIV medical care and treatment, chemical dependency treatment and mental health treatment.
-To provide individuals with compromised immune systems with nutritional services and help with daily living as needed.
-To help in job training and placement assistance.
3:15 p.m. - Greenwich Woods has been in talks with the state Department of Public Health to review options to best serve the community and the state during the pandemic. There is no finalized plan and discussions are ongoing, according to Tammy Campanelli, the vice president of operations.
1:42 p.m. More than two weeks after Westport Public Schools closed to slow the spread of the novel coronavirus, many adults have started transitioning into a new normal: Balancing their roles as parents, and now, teachers. "If you have two working parents that need to be available during the day, it's not really possible," said Elena Shmonina, a mother of two 5-year-olds. To read more, click here.
1:20 p.m. - The Democratic National Committee is delaying its presidential nominating convention until the week of Aug. 17 after prospective nominee Joe Biden said he didn't think it would be possible to hold it in mid-July because of the coronavirus pandemic.
1:02 p.m. N.Y. Gov, Andrew Cuomo's press conference earlier today on the coronavirus.
Twenty-five minutes into the video, he is joined by his brother Chris Cuomo, of CNN, who is in quarantine with the coronavirus.
12:44 p.m. - The St. Vincent de Paul of the Valley Food Bank will be conducting a "Drive By Food Drive" on Sunday April 5, 2020 from 11:00 am to 2:00 pm at their Thrift Shop at 237 Roosevelt Drive on Route 34 in Derby. They will accepting all non-perishable foods, AND meats, dairy, AND Easter hams. They will also accept any tax deductible monetary donations or gift cards. Strict social distancing will be practices to to protect everyone's heath. Just drive in drop the food or donation in the bins and drive out.
You can also mail any monetary donations to: St. Vincent de Paul of the Valley, 237 Roosevelt Drive, Derby, CT 06418
12:23 p.m.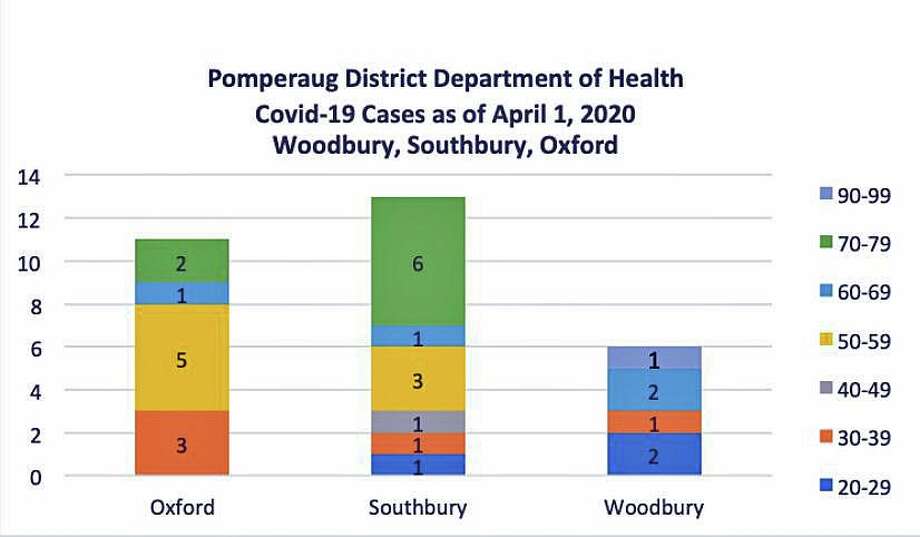 12:05 p.m. - Chief Medical Examiner James Gill on Thursday confirmed that the six-week baby who was found to have COVID-19 in an autopsy, was pronounced dead at St. Francis Hospital in Hartford's North End.
"The infant did test positive for the COVID-19 virus and an autopsy was done at the Office of the Chief Medical Examiner," Gill said in an email Thursday morning. "At the current time, we have not issued a final cause of death. There are numerous tests that we must do on infant deaths before issuing a final cause of death. It will be a few weeks before the investigation is done." To read more, click here.
11:51 a.m.
11:30 a.m. - Here is an updated Q&A by the IRS on the stimulus checks, formally called "economic impact payments."
11:07 a.m. - Social Security beneficiaries will now automatically receive their coronavirus stimulus checks after a change made by the Trump administration late Wednesday night.
Lawmakers on Wednesday decried a policy enacted by the Internal Revenue Service earlier this week that would have required Social Security beneficiaries to file a simple tax return to receive the benefit although many of the beneficiaries — mostly seniors and the disabled — are not normally required to pay taxes.
Now, these Social Security recipients will receive their payments as a direct deposit or by paper check, just as they would normally receive their benefits. Read more here.
10:58 a.m.
10:42 a.m. - The Internal Revenue Service today urged taxpayers to be on the lookout for a surge of calls and email phishing attempts about the Coronavirus, or COVID-19. These contacts can lead to tax-related fraud and identity theft.
"We urge people to take extra care during this period. The IRS isn't going to call you asking to verify or provide your financial information so you can get an economic impact payment or your refund faster," said IRS Commissioner Chuck Rettig. "That also applies to surprise emails that appear to be coming from the IRS. Remember, don't open them or click on attachments or links. Go to IRS.gov for the most up-to-date information." Read more here.
10:20 a.m.
The inaugural episode of Exit 43, the new podcast from Hearst Connecticut Media, examines mental health concerns during a pandemic — both the fear and paranoia with which we all are struggling, and the specific challenges of managing a mental health facility while fighting a transmissible and deadly pathogen.
Why is it called Exit 43? As anyone who drives the Merritt Parkway knows, there is no exit 43, and the reason why touches on issues of privilege, access and the history of the state itself.Each week we'll dive into a local news issue, examining an aspect of life in and around Connecticut you probably didn't know about.
10:08 a.m. - The Connecticut Department of Labor processed more than 33,000 initial claims for unemployment benefits last week, according to new federal figures Thursday, after cranking out more than 25,000 over the previous week as layoffs spiked with business closures forced by the coronavirus pandemic.
9:50 a.m. - A World War II veteran is the first confirmed coronavirus death involving a resident from a Danbury nursing home. Gary Anderson said the chief medical examiner's office informed him his father, Albert Anderson, had tested positive for COVID-19 after his death over the weekend.
Anderson had to wait outside his father's room at Danbury Hospital before he died. "That was horrible," he said.
9:33 a.m. - After Gov. Ned Lamont asked grocery stores to limit shopper visits to half any store's capacity at any point in time, the state of Connecticut has promulgated formal "Safe Stores" guidelines that retailers must implement heading into the weekend. The list expands on a directive this week by Norwalk's mayor after a spike in city residents diagnosed with the COVID-19 strain of coronavirus.
In addition to stationing staff at entrances and exits to ensure stores remain at half capacity, retailers are being asked to take every other register line out of service in order to create more space between people at checkout. To read more, click here.
9:15 a.m. - As news around the area and country continues to be dire, Darien schools will remain closed until at least April 2
Virtual Coffee with a Cop Thursday April 2nd at noon on NPDs Instagram. Feel free to send in any Questions. #coffeewithacop pic.twitter.com/6E6j2JOjLZ

— Chief Tom Kulhawik (@NPDChief) March 31, 2020
Here's the video of our 3PM news briefing from today with updates on Connecticut's #COVID19 response. https://t.co/ny0SdRhVMh

— Governor Ned Lamont (@GovNedLamont) April 1, 2020